Imagined Audiences: Connecting the History and Theory...
Date:
Thursday, October 13, 2022
Location:
FIMS and Nursing Building (FNB)
Room: 4130 (or Zoom)

Export: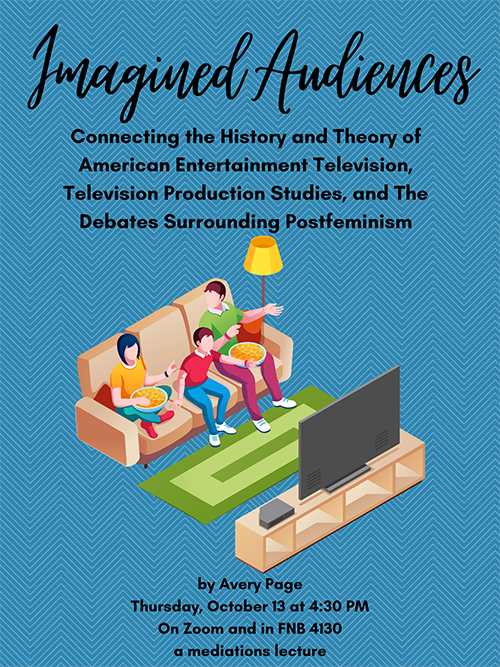 "Imagined Audiences: Connecting the History and Theory of American Entertainment Television, Television Production Studies, and The Debates Surrounding Postfeminism"
Presented by Avery Page, PhD student in Media Studies, Faculty of Information & Media Studies.
Attend in person: 4130
Attend online: Zoom
Abstract: This fields essay explores the key themes and existing scholarship that constitute the history and theory of American entertainment television, television production studies, and the debates surrounding postfeminism. Framing my discussion through the lens of the American sitcom, I approach each field with an intersectional perspective, concluding with a discussion on the connections between the three areas of inquiry. Exploring the postfeminist television audience, I argue that exclusions and inclusions of identity on-screen have always been calculated strategically for the pursuit of maximum advertising profit, insofar as the audiences to whom they are imagined to appeal to by television production workers hold power as consumers in society. As such, visible inclusions of feminism(s) and diverse identities on-screen do not act as a true critique of inequality, but instead work for commercial profit.
Speaker Bio: Avery Page (she/her) is a PhD student in Media Studies, researching television production and the representation of Jewish women on American sitcoms. She holds a master's degree in Television, Radio and Film from Syracuse University, and previously worked in television development and production.
Presented as part of the Mediations Lecture Series.