Data Imaginaries
Date:
Thursday, March 24, 2022
Export: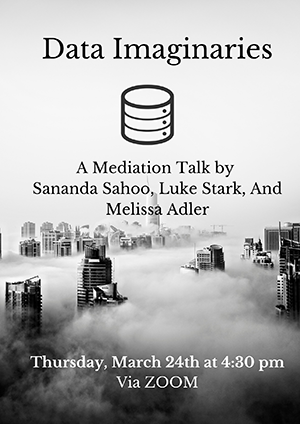 Presented by Melissa Adler, Sananda Sahoo and Luke Stark as part of the FIMS Mediations Lecture Series.
If you would like to attend this event, please contact fimsmediations@gmail.com to request the Zoom link.
Abstract:

This panel will examine the role of information and its attendant technologies in social, cultural, psychological, and political contexts. Sananda Sahoo's paper provides a frame for thinking about the history of data imaginaries, how data becomes legitimized, and what that data can do. In philosopher Charles Taylor's words, an imaginary is "not a set of ideas; rather it is what enables, through making sense of the practices of a society." Sahoo's paper considers three specific groups of "data imaginaries" from the colonial and recent histories of India. Luke Stark asks, How did Silicon Valley companies get to a point where it seemed normal and desirable to develop "emotional artificial intelligence," and what does that story tell us about the role of emotion in American society over the past century? He will use scenes from computing's intersection with psychological models and techniques around human emotion to illustrate how "emotional capitalism" has become a defining feature of the 21st century economy. Melissa Adler will talk about knowledge organization as a technique in cultivating a settler colonial imaginary, and how information infrastructures have been essential for empire expansion.

Speaker Bios:

Sananda Sahoo is a Ph.D. candidate in Media Studies at the Faculty of Information and Media Studies, Western University. She looks at the intersections of public, public space and digital infrastructures. Her previous research includes data histories, political posters and platforms, questions of collective responsibility, sites of violence in the digital sphere, and colonial narratives in photographs and memoirs by women. She holds an MPhil in English Literature and master's degrees in journalism and English Literature.

Luke Stark is an Assistant Professor in the Faculty of Information and Media Studies at Western University in London, ON. His work interrogating the historical, social, and ethical impacts of computing and AI technologies has appeared in journals including The Information Society, Social Studies of Science, and New Media & Society, and in popular venues like Slate, The Globe and Mail, and The Boston Globe. Luke was previously a Postdoctoral Researcher in AI ethics at Microsoft Research, and a Postdoctoral Fellow in Sociology at Dartmouth College; he holds a PhD from the Department of Media, Culture, and Communication at New York University.

Melissa Adler is an Assistant Professor in the Faculty of Information and Media Studies at the University of Western Ontario. Her book, Cruising the Library: Perversities in the Organization of Knowledge (Fordham University Press, April 2017), is a study of the history of sexuality through the lens of Library of Congress classifications and categories. Her current project, Informing a Colonial Imaginary: Knowledge Organization in Thomas Jefferson's Information Age, examines the convergence of racialization, capital, state power, and information in the 18th and 19th centuries. She also has a SSHRC funded project, which investigates a variety of models for creative and reparative knowledge organization practices by playing with methods that reside at the intersections of library and archives work, storytelling, poetry, and craft.