Data collection during the pandemic: When the unwritten...
Date:
Thursday, March 3, 2022
Export: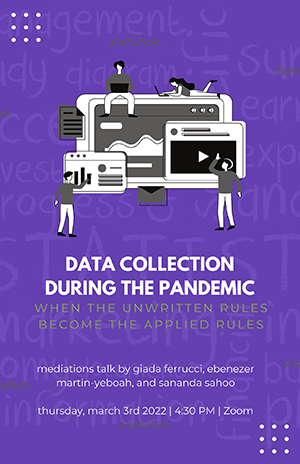 "Data collection during the pandemic: When the unwritten rules become the applied rules"
Presented by Giada Ferrucci, Ebenezer Martin-Yeboah, Eunice Annan-Aggrey, and Sananda Sahoo.
If you would like to attend this event, email fimsmediations@gmail.com to request the Zoom link.
Abstract:
The global pandemic continues to disrupt economic, academic, and socio-cultural facets of life due to the need to adhere to public health protocols. In most academic settings, whereas it is conceivable that all stakeholders have been hardly hit by COVID-19 pandemic, the stories of research-based students seem unique and require attention. As young researchers learning the rudiments of undertaking academic research projects, the pandemic is complicating the learning curve of graduate student researchers who now have to navigate not only the intricacies of research but must also learn to do this in an 'unchartered territory' using remote methods. 'Social distancing mandates are restricting traditional face-to-face investigations of all kinds' necessitating innovative approaches in order to steer the data collecting process. A panel of PhD students drawn from various cohorts, research areas and research methodologies within FIMS and Western is therefore relevant to expand the frontiers of this discussion. The workshop will share the experiences of different graduate students and review practices for reliable and robust data collection during the COVID-19 pandemic. The discussion will focus on experiences with sampling methods and with exposure assessment methods in different cultural traditions. More specifically, we will describe options and resources for researchers who have had to alter their study designs from face-to-face qualitative data collection to a "socially distant" method. Special attention will be given to ethical issues when transitioning research efforts to online venues.

Speaker Bios:

Giada Ferrucci is a Ph.D. candidate in Media Studies with a specialization in Environment and Sustainability. Her doctoral research focuses on the intersect of environmental justice and social movements´ activism in the context of anti-mining campaigns. In particular, she is looking at mobilization activities and communication strategies implemented to contrast mining projects. Her talk will highlight planning contingency plans to facilitate interviews and focus groups sessions remotely.

Ebenezer Martin-Yeboah's thesis looks at how young male university students in Ghana get their sexual and reproductive health information, and their competencies in such information practices. He relies on multiple qualitative methods to address three key research questions. His talk will open a conversation on how data collection through the Talk-Aloud/Think-Aloud and semi-structured interviews could be approached virtually in a Global South context. Ebenezer is a PhD (Health Information Science) candidate.

Eunice Annan-Aggrey is a Ph.D. Candidate in the Department of Geography and Environment, with a specialization in Environment and Sustainability. Her doctoral research uses qualitative methods to investigate the implementation of the United Nations Sustainable Development Goals at the local government level in Ghana. Her talk will highlight planning considerations to facilitate an efficient remote data collection process.