"By Women For Women" Communicating Gender...
Date:
Thursday, March 10, 2022
Export: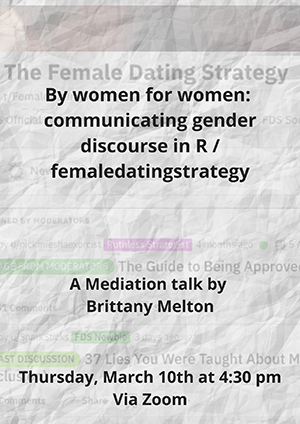 "'By Women For Women' Communicating Gender Discourse in r/FemaleDatingStrategy"
Presented by Brittany Melton as part of the FIMS Mediations Lecture Series.
If you would like to attend this lecture, please email fimsmediations@gmail.com for the Zoom link.
Abstract:

Female Dating Strategy (FDS or r/femaledatingstrategy ) is a forum on Reddit, formed in 2019, that promotes itself as a female-only space for discussing dating. This paper will seek to explore how the FDS communicates gender and how gendered discourse has the potential to radicalize its members through gender essentialist and misandrist discursive practices. This study will also consider how gender is constructed in an inherently genderless space as Reddit users are not required to share their identities and are thus anonymous by function. This paper will utilize a feminist discourse analysis approach. The main text of this analysis is the Subreddit's "essential reading" that all users must read before engaging in the group (Anonymous, N.D.). Very little research has been done on the topic to date, so this paper offers some initial investigation into the group's structure and communication strategies. Communities like Female Dating Strategy that produce hate online are ever-growing, so developing a better understanding of the discursive tactics used to radicalize members could help us better identify it when it happens again.

Speaker Bio:

Brittany Melton (she/her) is a first-year Ph.D. student in Media Studies. She graduated from the Master of Arts Popular Culture program at Brock University in 2018 and has spent her time since working as a teaching and research assistant in the Communication, Pop Culture, and Film department. Brittany studies media because she firmly believes that understanding mediated messages and constructs offer invaluable insight into the world around us. Her research interests focus on feminist criticism related to television and film as essential influencers of how women understand our own identities as women in the 21st century. Her past research has focused on comedy and gender representation in the television show Unbreakable Kimmy Schmidt (2015-2019). This research examined how the comedy genre is employed to help create a counter-hegemonic message about gendered experience. She feels it is vital to research how genre influences how gender identity is portrayed in television shows because understanding representation is important for understanding how we communicate what gender "looks like". In her time at Western, she has been exploring other venues where representation occurs, specifically in online communities like Reddit.