Postponed: InnovationAmbassadors' Innovation&Impact Showcase
Date:
Tuesday, May 12, 2020
Location:
Somerville House (SH)
The Great Hall

Export: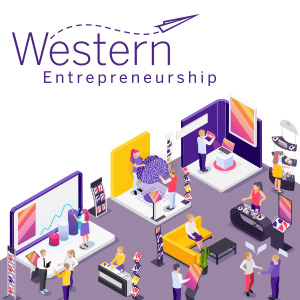 This event has been postponed amid the challenges of the COVID-19 corona virus pandemic. The event will be rescheduled for late Summer/early Fall.
At their core, Innovation Ambassadors are about sharing – sharing of ideas, of guidance, of understanding, of expertise, of a particular insight into entrepreneurship unique to Western.
Our Innovation Ambassadors are self-identified researchers from across campus who have experience and expertise in entrepreneurship, commercialization or knowledge mobilization. They are charged with a mission to connect great ideas from their areas into the ecosystem. Innovation Ambassadors are an essential component of the Western Entrepreneurship ecosystem. Through their work in faculties and departments across campus, they are dedicated to developing and supporting an innovative mindset at Western.
This event, hosted by the Innovation Ambassadors, will promote engagement with our community by showcasing Western's research innovation and its impact on our society.
This free admission showcase will have booths set up in the Great Hall so attendees can interact with exhibitors and attend tours of hallmark campus facilities.
Exhibitors will include Western researcher and student start-ups, Centres, Institutes, Innovation Ambassadors, faculty, alumni companies, etc.
Tours will include: McIntosh Gallery, Zoological Collection, Archives & Research Collections Centre (ARCC), Boundary Layer Wind Tunnel, ADEISS (3D Imaging) and the Brain and Mind Institute.