AHSC Presents: The Interrogation of Baruch de Spinoza
Date:
Wednesday, January 30, 2019
Location:
The Arts Project
230 Dundas St, ON
Export: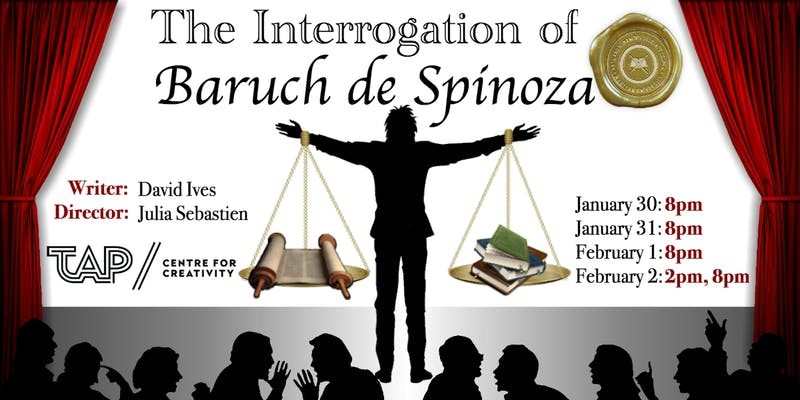 Written by David Ives
Directed by Julia Sebastien
Runtime: 2 hours (includes a 15 minute intermission)
Tickets: $15 General Admission
Synopsis: Once on the path to becoming the leader of 1600s Amsterdam's small Jewish community, free-spirited Baruch de Spinoza has since left his religious studies in favour of fraternizing with non-Jews about his new loves: mathematics, philosophy, and a Dutch girl, Clara. When Spinoza's best friend betrays Spinoza's sacrilegious communications with Christians to the Dutch magistrate, Spinoza is dragged into a makeshift courtroom for the interrogation of his life; every aspect of his being--his family, friendships, relationships, letters, thoughts and philosophies--is put on trial in judging whether Spinoza is an atheist and must therefore be excommunicated from his home and from his people. In an attempt to appease his Christian overlords, Rabbi Mortera, Spinoza's former mentor, attempts to dismantle Spinoza's ideas and bring his star pupil back into the fold; however, fueled by his love of wisdom and his unwavering belief in freedom of expression, Spinoza lithely dodges and parries each ideological offensive he encounters with irreverence, humour and wit, painting his interrogators into a corner with irrefutable logic. Faced with an enraged Dutch magistrate and flowering doubts of his own, Rabbi Mortera must make a decision that will seal the fate of his community, himself, and the son he never had.