Theatre Creation Workshop: Mina Samuels & Jacqueline Dugal
Date:
Tuesday, March 21, 2017
Register by:
Monday, March 13, 2017
Location:
International and Graduate Affairs Building
Chu Centre

Export: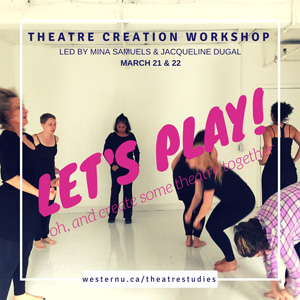 Working with a script in process, students interested in playwrighting, directing and non-naturalist acting practices will have the opportunity to experience what it means to "devise" for the theatre. We will mess around with the elements of theatricality using a mash-up of physical techniques stolen from Lecoq, Clown, Commedia, Viewpoints and modern dance, as well as the devising structure of Tectonic Theatre Project's Moment Work. Come dressed to move in neutral clothing. No prior acting experience is required! Student participants will also have the opportunity to influence the direction of a script as it develops! Students can attend all or part of the workshop, as classes permit; there's no requirement to be present for the full thing.
Tuesday, March 21, 10:00am-4:00pm
& Wednesday, March 22, 10:00am-4:00pm

Please contact Kim Solga | ksolga@uwo.ca by Mon Mar 13 to register!